来源:chainfeeds
作者:ETHGlobal
HackMoney 2022
Our biggest event just got bigger.
HackMoney 2022—our biggest event yet.
Last year's HackMoney was our largest event (at the time). This year, we wanted to go even bigger. With 1205 hackers launching 214 new projects to earn over $300k+ in prizes, we're confident that HackMoney 2022 was our biggest event yet. From high-level panel discussions, to partner workshops, and all the projects created in-between—read our recap of this epic event below.
💰HackMoney 2022 TL;DR
🙋‍♂️ 1205 Attendees

🛠 214 Projects Submitted

👩🏻‍🦳 246 Ecosystem Mentors

🤝 47 Partner Teams

💸 $300,000+ in Prizes

🌍 76 Countries + 18 Timezones
🚀Starting off Strong: The HackMoney Kickoff & Summit
As anyone in our ecosystem can tell you, a full year in the DeFi space can change a lot. With the rapid pace of advancements happening throughout, we wanted to give hackers an opportunity to learn from the experts leading the way. The HackMoney Kick-off & Summit was an afternoon devoted to showcasing the future of finance, featuring some of the most knowledgable people in the space. Talks from Alexis Gauba, Arjun Bhuptani, Spadaboom, Kydo, and Elena Nadolinski set a positive tone for the event that was echoed in our hackers' excitement.
The HackMoney Kick-off Summit featured a number of incredible talks.
It was clear HackMoney was going to be an event like no other from the moment we kicked-off. Our Discord server and live chat started to buzz as our summit speakers took the stage, and the vibe was strong. Hackers funneled the positive energy into their projects, packing the house at creative team building and idea generation sessions alongside the scheduled workshops of the week.
🛠 Linking + Building: HackMoney Workshops
Scaffold-eth is an ETHGlobal Community favorite, definitely worth a watch!
Throughout the event, partner teams hosted high-level workshops to give our hackers valuable insights into the projects and protocols they were building with. Speakers like Leibing Guo, Leilani Ledingham, Haardik Haardik, Shana Matthews, Alex Rood, Gasper Parte, and Tim Kernell. On top of that, intro workshops like Scaffold-Eth with Kevin Jones.
Our Partners raised the bar at this year's event, with the second week seeing highly-attended workshops from Partners like Babylon, Tempus, EPNS, Polygon, Gnosis Safe, Gearbox, and many more. Head over to our YouTube Channel to catch up on all that you missed, where you can see all that this year's HackMoney had to offer as well as clips from our previous events!
🎥 Stealing the Show: The Superfluid Reactor Summit
Check out what Superfluid Reactor is all about.
The Superfluid Reactor Summit was by far one of the most exciting moments of this year's event. Hosted in collaboration with the incredible team at Superfluid, the Summit presented a packed afternoon of talks and panel discussions on the future of payments, Web3 economies, and DeFi.
Audience members tuned in from around the world to watch the Summit, becoming among some of the first to learn about Superfluid Reactor.
Our Panel on Web3 Native Business Ops was a high point of the afternoon.
The afternoon was filled with quality discussions with Superfluid builders and ecosystem leaders like Francesco Renzi, Tony Rosler, Sunny Jaycer, Erbil Karaman, Christophe Lassuyt, Tarun Gupta, Julien Genestoux, Michele D'Aliessi, and more. These sessions offered hackers a glimpse into the future of our ecosystem and directly influenced some of the projects built at HackMoney. Watch the whole Summit here.
🙌 The HackMoney Finale
Our hackers worked tirelessly to complete their projects before the deadline, working long into the night to craft their perfect submission. This effort was mirrored by our tech mentors and support staff, who assisted hackers by staying on-call to patch last minute problems. Come judging, many of our teams felt confident that they'd achieved their best work, and as the results came in we realized our hackers had raised the bar once again. To see one project launch in just a few week's time is incredible—to see hundreds simultaenously take flight is awe-inspiring.
Watch the Finale to see live demos from the HackMoney Finalist Teams!
The HackMoney Finale was a triumphant close to an incredible event. After three weeks of non-stop building, breaking, dreaming (and doing), our hackathon came to an end. The 10 teams chosen as Finalists from this year's event represent a hopeful glimpse into the future of our ecosystem. Read more about their impactful projects below, and be sure to check out the Project Showcase to see all of the 214 projects that came to life at HackMoney 2022.
🏆 The 10 HackMoney Finalists
🧈 Whip
Treasury Risk Analytics Dashboard with Strategy Backtesting for DAOs.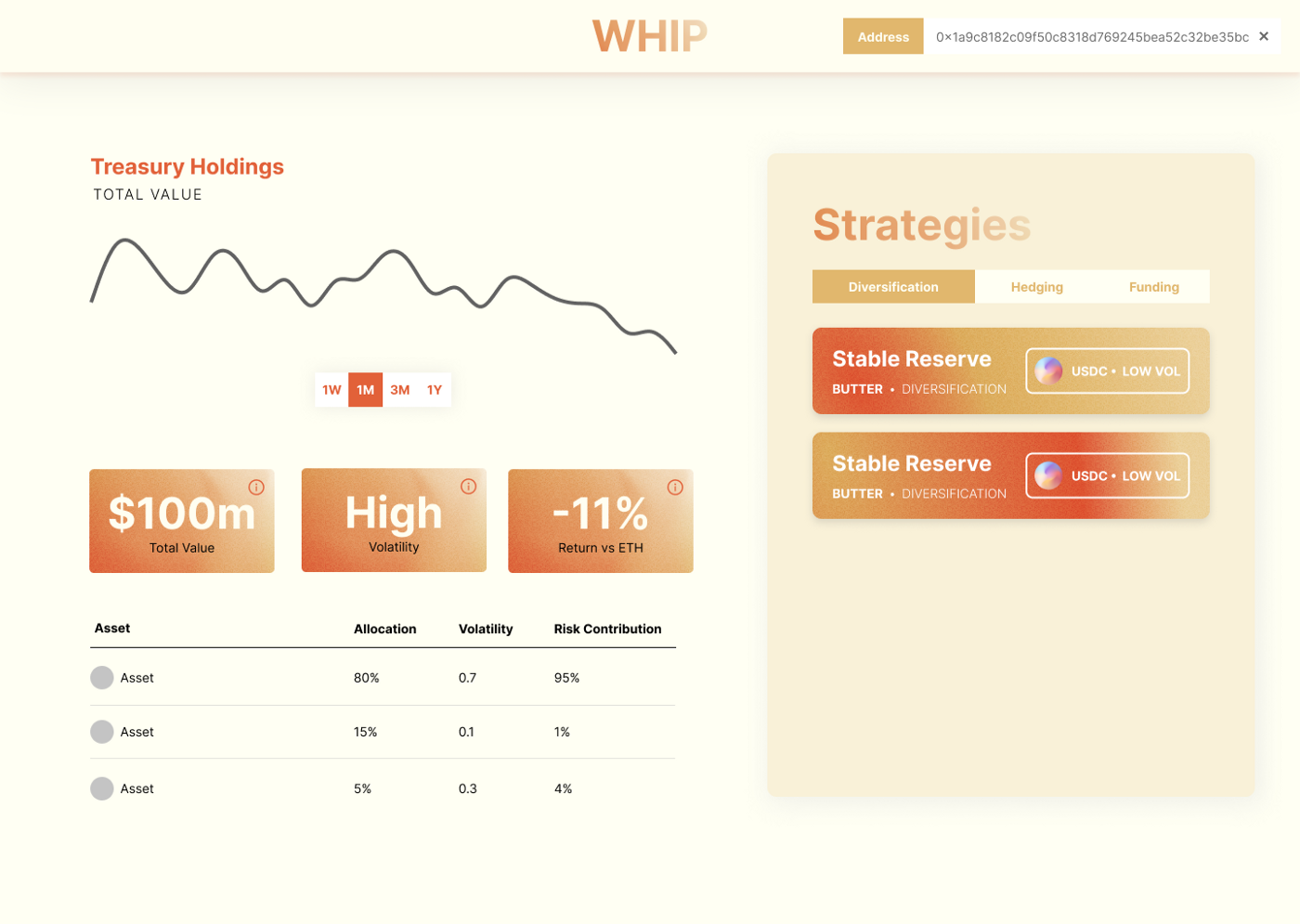 The Whip dashboard.
The Team: @JamilBomps, @vaughnmck, @lajarre
What we liked: DAO Tools are incredibly valuable right now, and even moreso if they are constucted to be user-friendly.
Wido Router Cross-chain and cross-protocol deposits, withdrawals and liquidity migrations.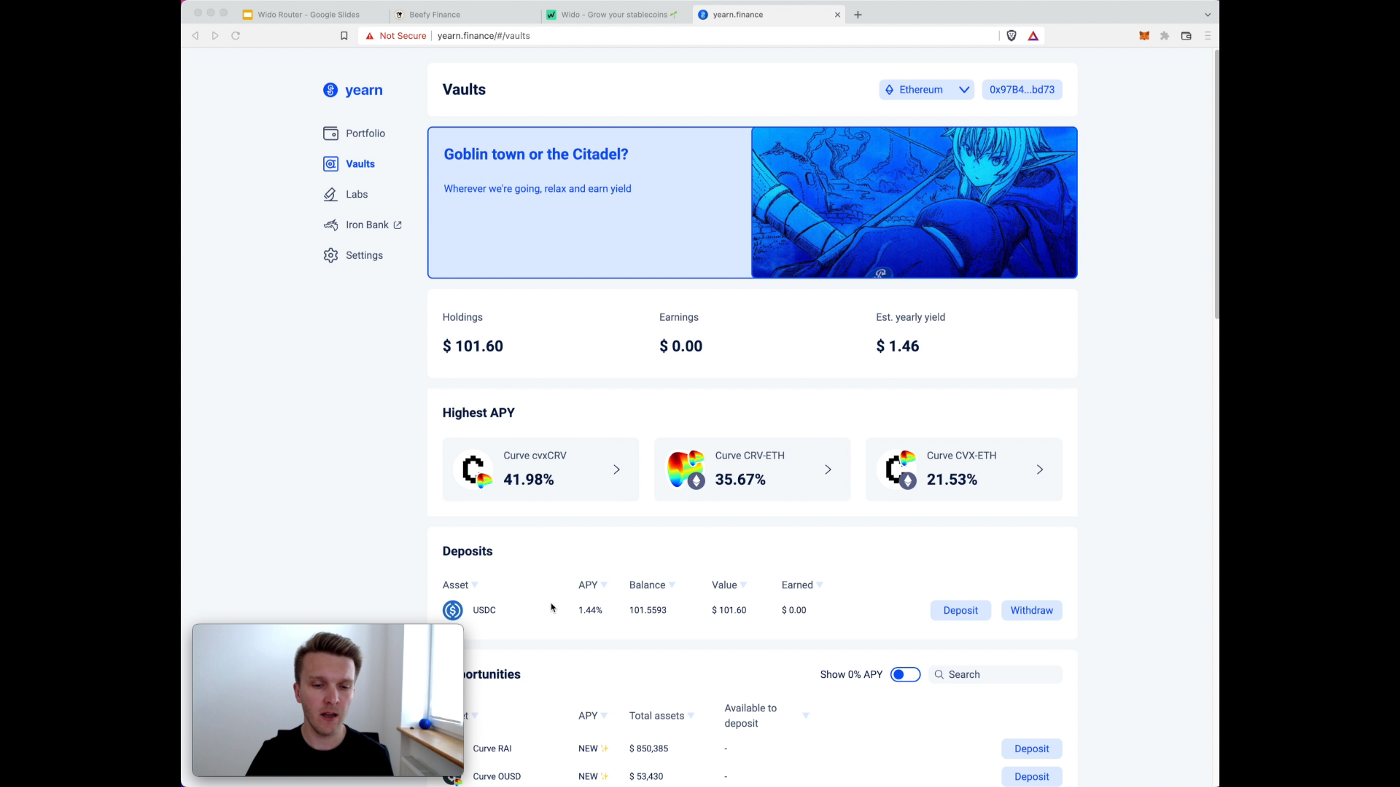 Wido Router demoing at HackMoney
The Team: @joinwido, @kundan7_, @kunal_jain
What we liked: Cross-chain is the future and Wido Router progresses what's currently possible. We're excited to see where this team goes next.
👌 OK Vault
Pay $1 to participate. Choose your lowest Bid. The lowest UNIQUE bid will win the Vaulted Tokens. Compatible with Standard Tokens ERC-20, ERC-721 and ERC-1155.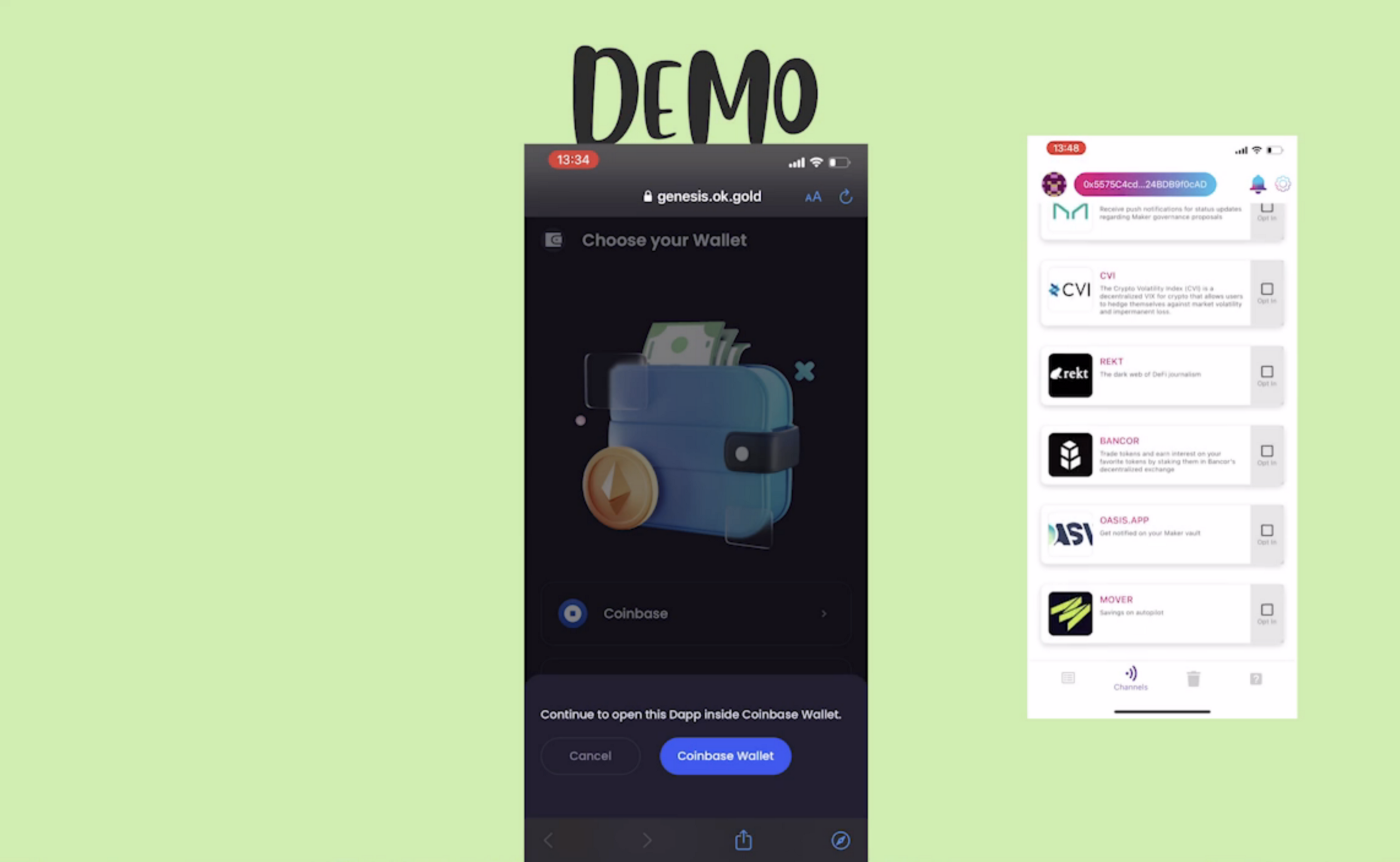 The OK Vault Polygon mobile dApp.
The Team: @OkVault
What we loved: The Organik Labs team continues to turn heads with their latest project, OK Vault, which included a unique auction-based system complete with a Polygon mobile dApp compatible with Coinbase Wallet and EPNS.
💰 BTFDCA
BTFDCA let's you buy crypto through dollar cost averaging! Buy Crypto Assets the Smart Way!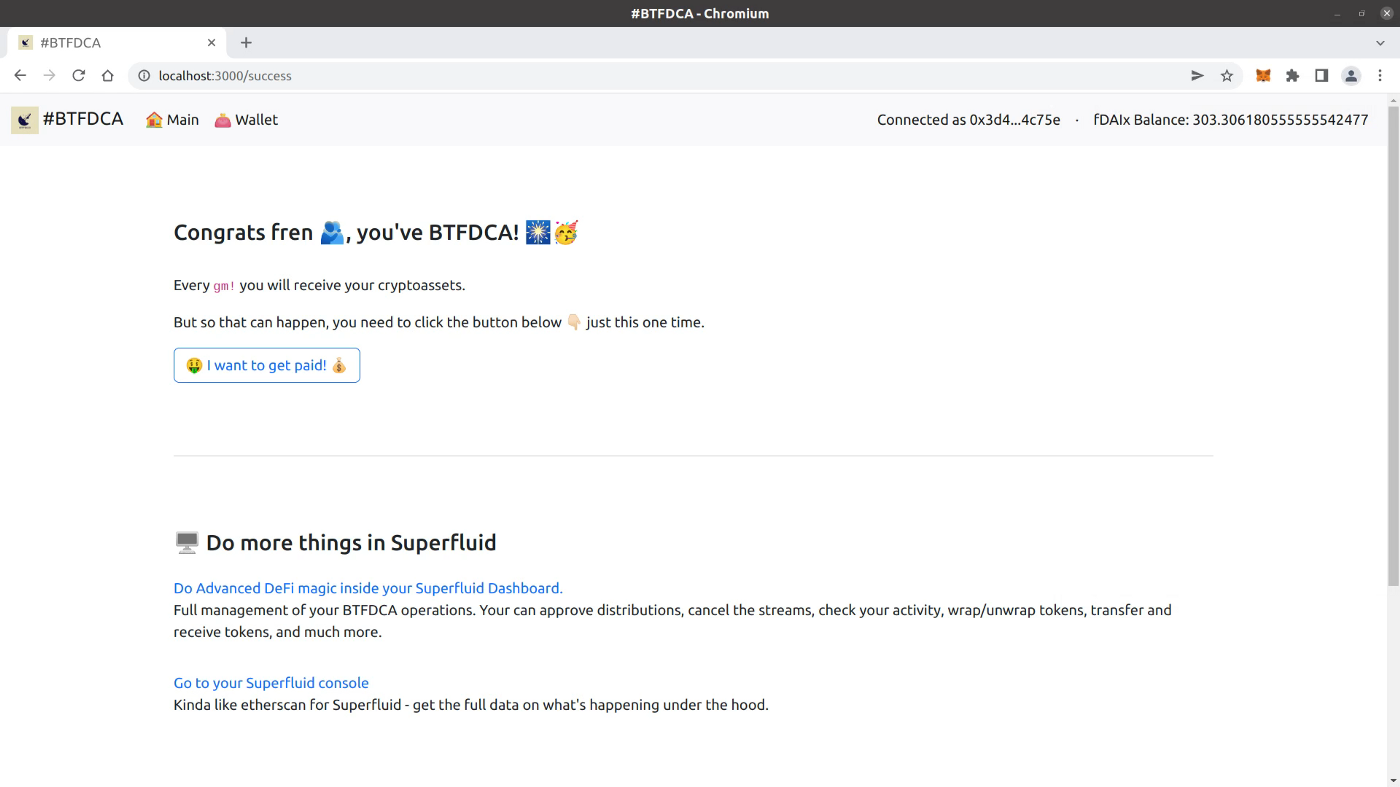 A look inside BTFDCA.
The Team: @omnifient
What was interesting: Dollar-cost averaging just makes sense, and so does BTFDCA. We're expecting to see cool things from this team in the future, and were impressed by the project's execution!
💧 EVIX
A derivatives protocol to directly trade exposure to on chain implied volatility levels.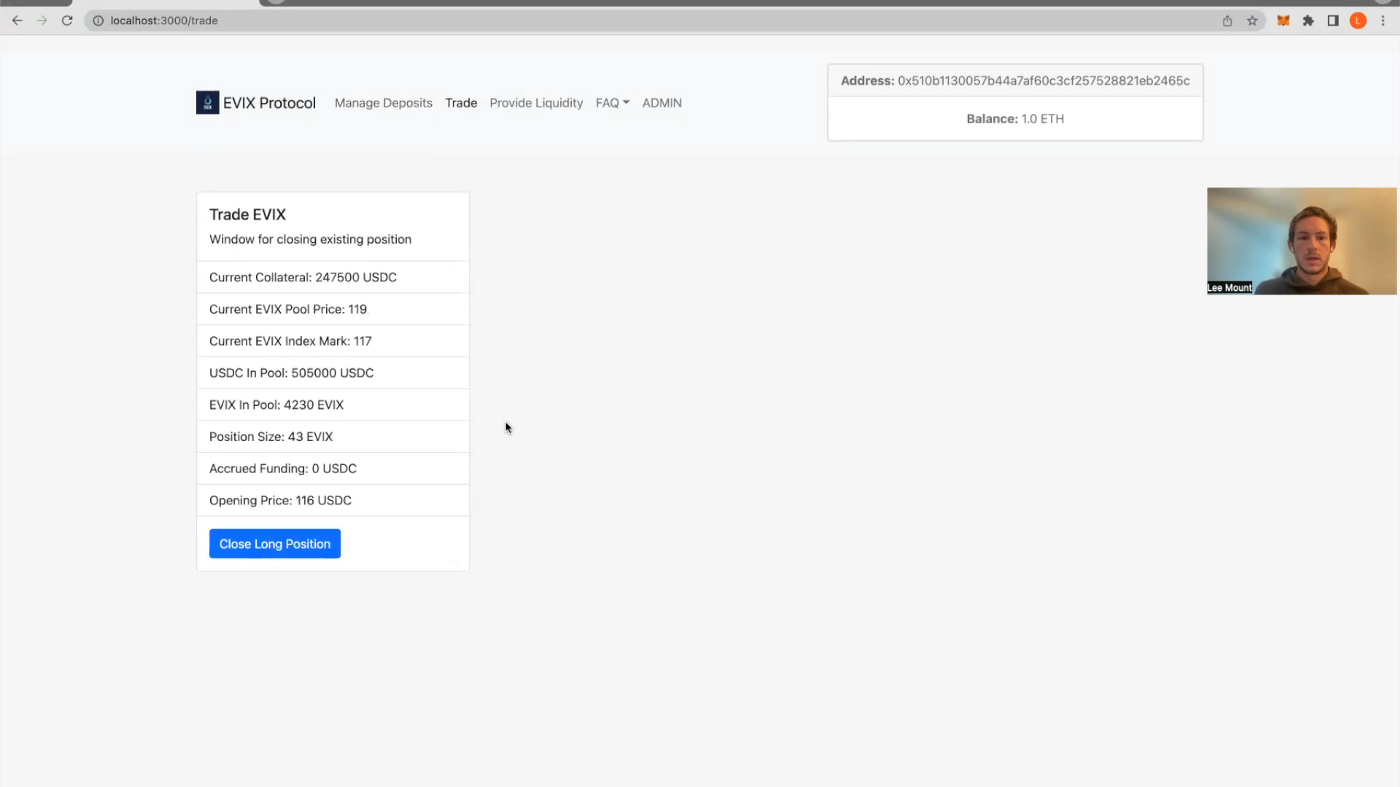 Evix demoing at HackMoney 2022
The Team: @lmount_
What we liked: Evix solves complex problems with a refined solution that progresses the DeFi space towards its eventual maturity, equalling that of traditional markets.
Yield Club is a platform for complex indexes. It allows users to compose complex indexes of yield opportunities.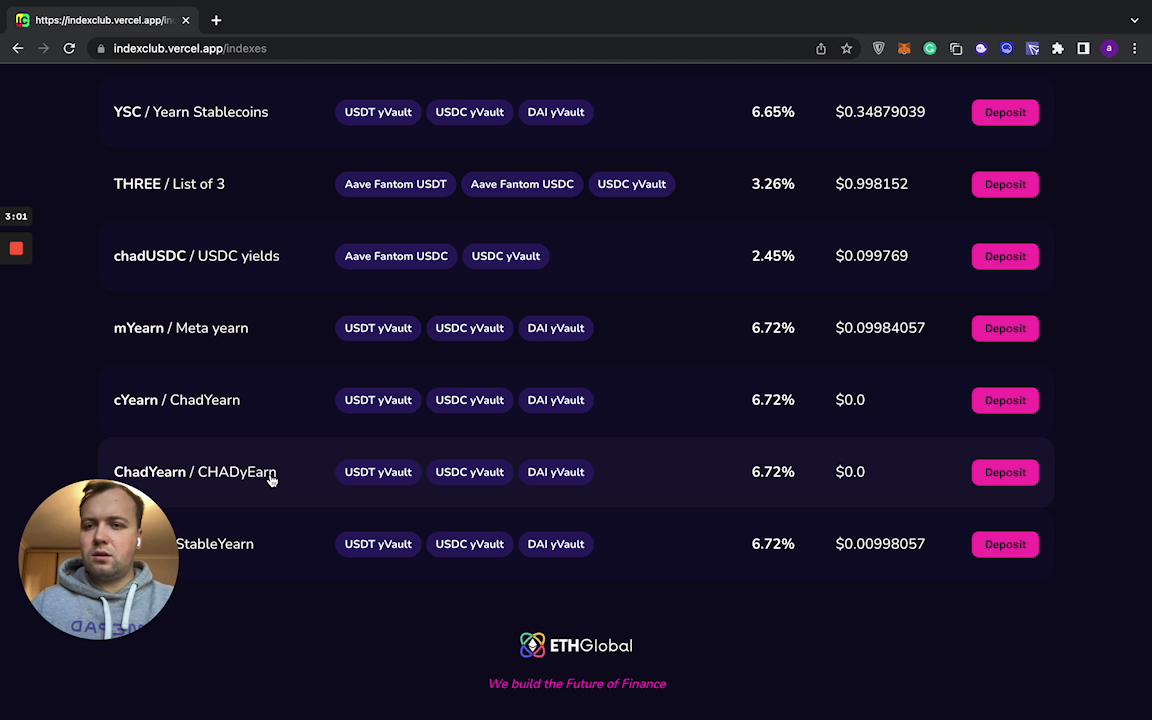 Yield Club showing off their project during the Finale.
The Team: @amijkko, @IndexClub1
What we liked: Yield Club allows users to focus on APY while doing the difficult task of creating and analyzing yield opportunities. In a burgeoning DeFi market, tools like Yield Club will lead the way for investors of all kinds.
#️ Hash Space
DeFi product discovery game where players explore a galaxy of defi planets, get yield bounties, flying around in a spaceship powered with footsteps.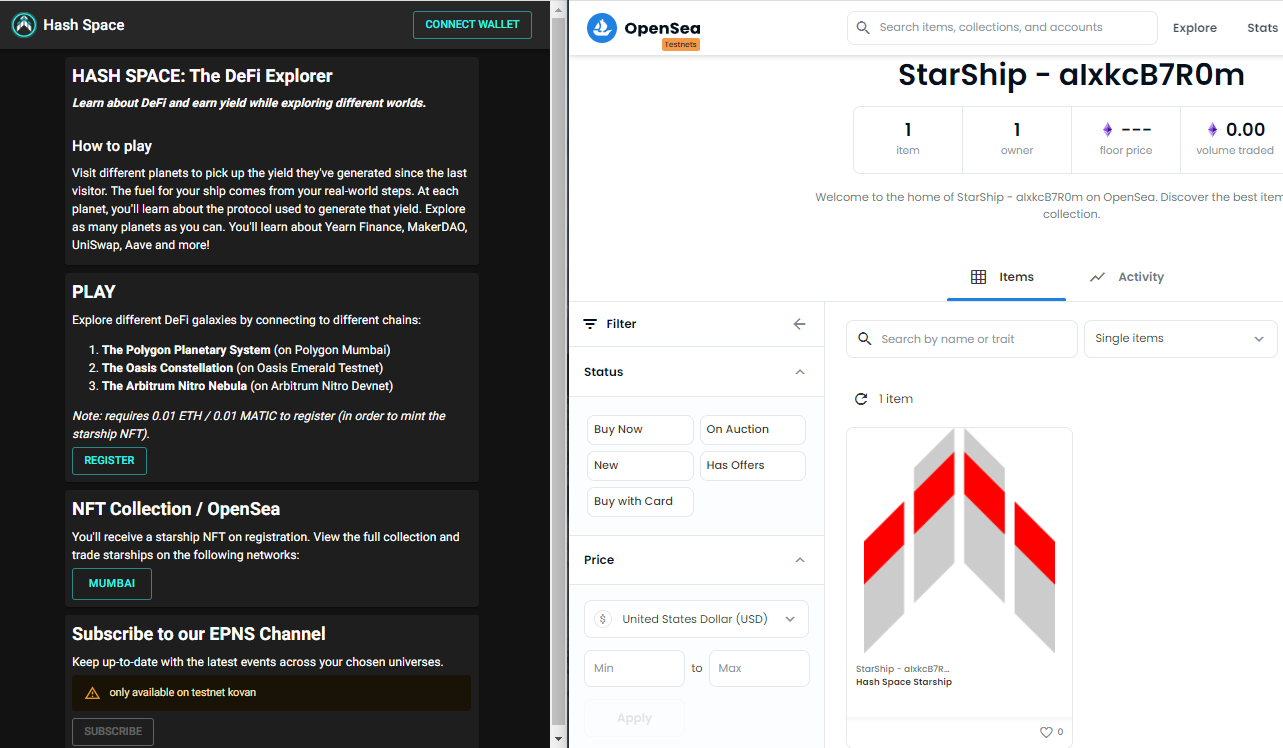 The Team: @saa_rizvi, @theotow, @lesDecroissant, @numbernine_eth, @chrislovejoy_, @HashSpaceQuest
What was cool: Who doesn't like being rewarded for taking care of their health while also learning about ways they can improve their DeFi knowledge? Hash Space is a perfect combination of fun, fantasy, and factual information to make this game interesting for any user.
👀 Polypus
Lending protocol using NFTs as collateral differentiates itself from the competition by offering better LTV and instant borrowing.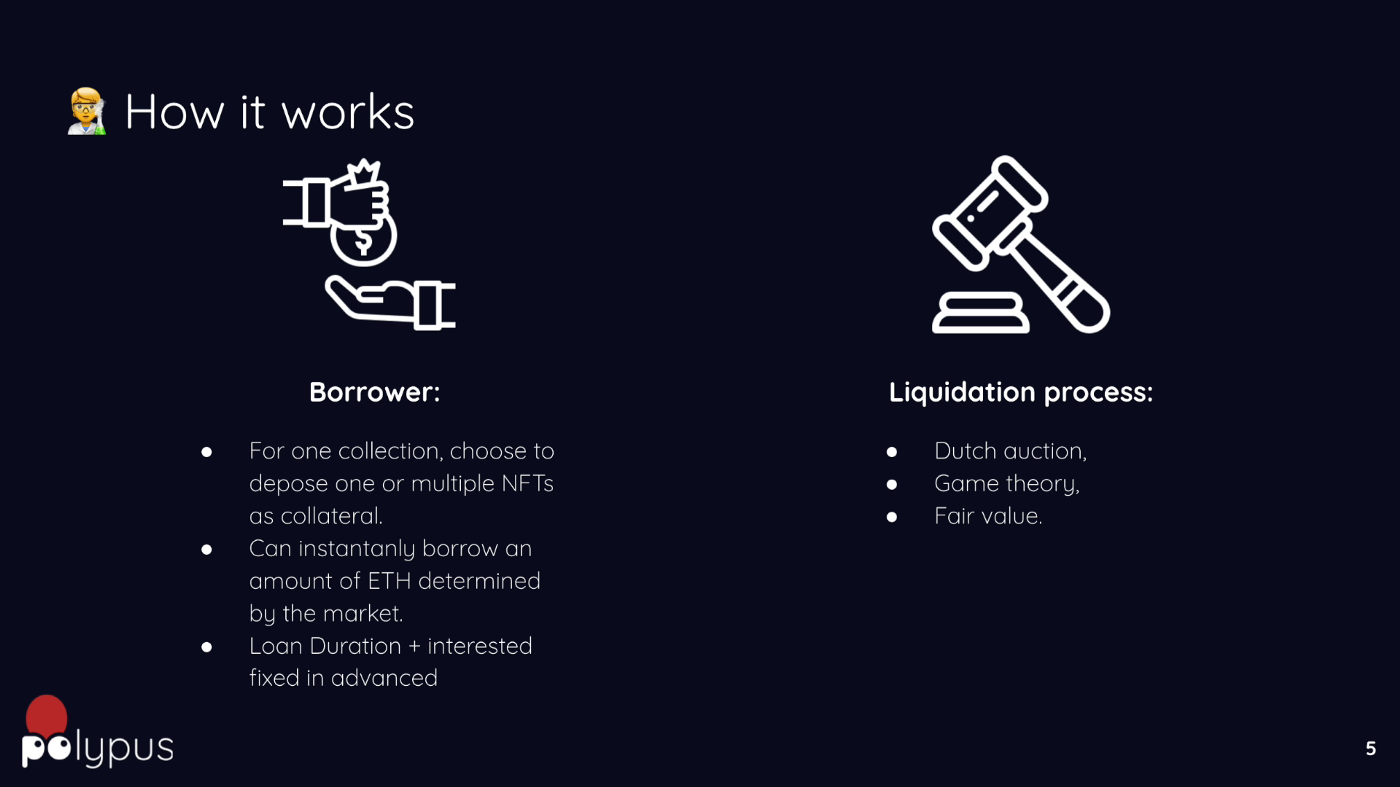 A quick overview of the Polypus system.
The Team: @Barn_LR, @polypusprotocol, @t0bou
What we liked: Polypus takes a different route to the "NFT's as collateral" probelm, focusing (and nailing) the borrower expereince. We're excited to see how this will impact the space, as its function and efficiency are sure to become a new standard.
🖼 Jpex
Jpex First on-chain option trading platform for NFTs where instead of buying/selling rare bluechip NFTs, people can trade options.
A quick glimpse of the Jpex app.
The Team: @jpexfinance, @_0xsensei_
What was cool: Jpex opens up a mountain of possibilities for NFT investment markets. Some projects are small steps, others (like this one) are giant leaps. Check out their Showcase page to learn more.
🧩 TEX
TEX is an MEV-resistant DEX designed to provide traders with a fair and efficient trading environment. Swap tokens without "hidden" slippages.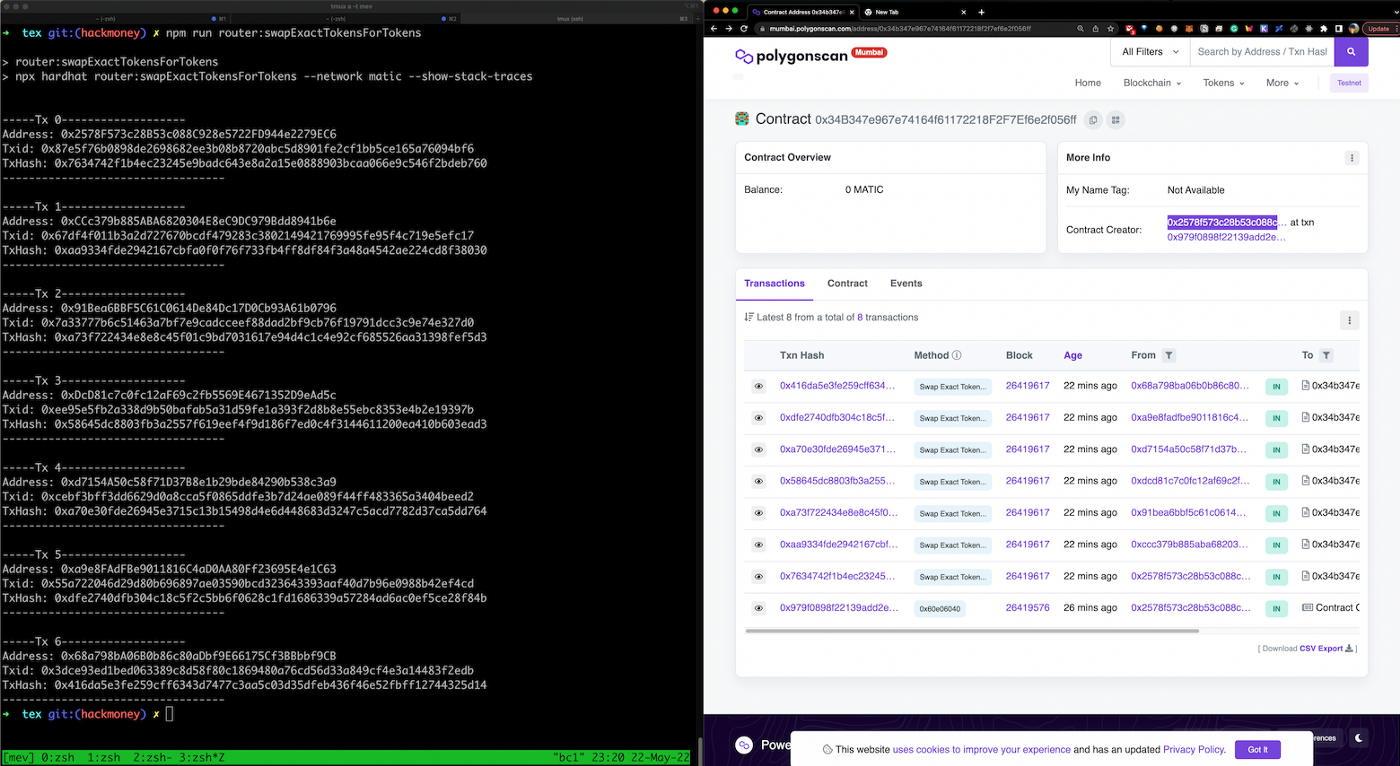 A look under the hood of TEX.
The Team: @RadiusXyz
What we liked: To MEV or not to MEV? That is the question. TEX gives us an answer that aims to protect traders from unseen market risks associated with Miner Extractable Value.
🤝 HackMoney 2022 Partners
It goes without saying that this event would not have been possible without the support of our dedicated Partner teams, support staff, tech mentors, and judges. We are beyond humbled to work with such impactful teams day-in, and day-out. An event like this doesn't happen in a vaccuum, and two hundred projects launching at the same time is no accident. Success at this level takes coordinated effort and dedication across multiple teams, and we owe our deepest gratitude towards those who helped HackMoney become our largest event yet.
The support of our Partner teams allows us to continue to provide this event (and all others) free of charge for all who wish to attend. Take a look at some of our key partners below!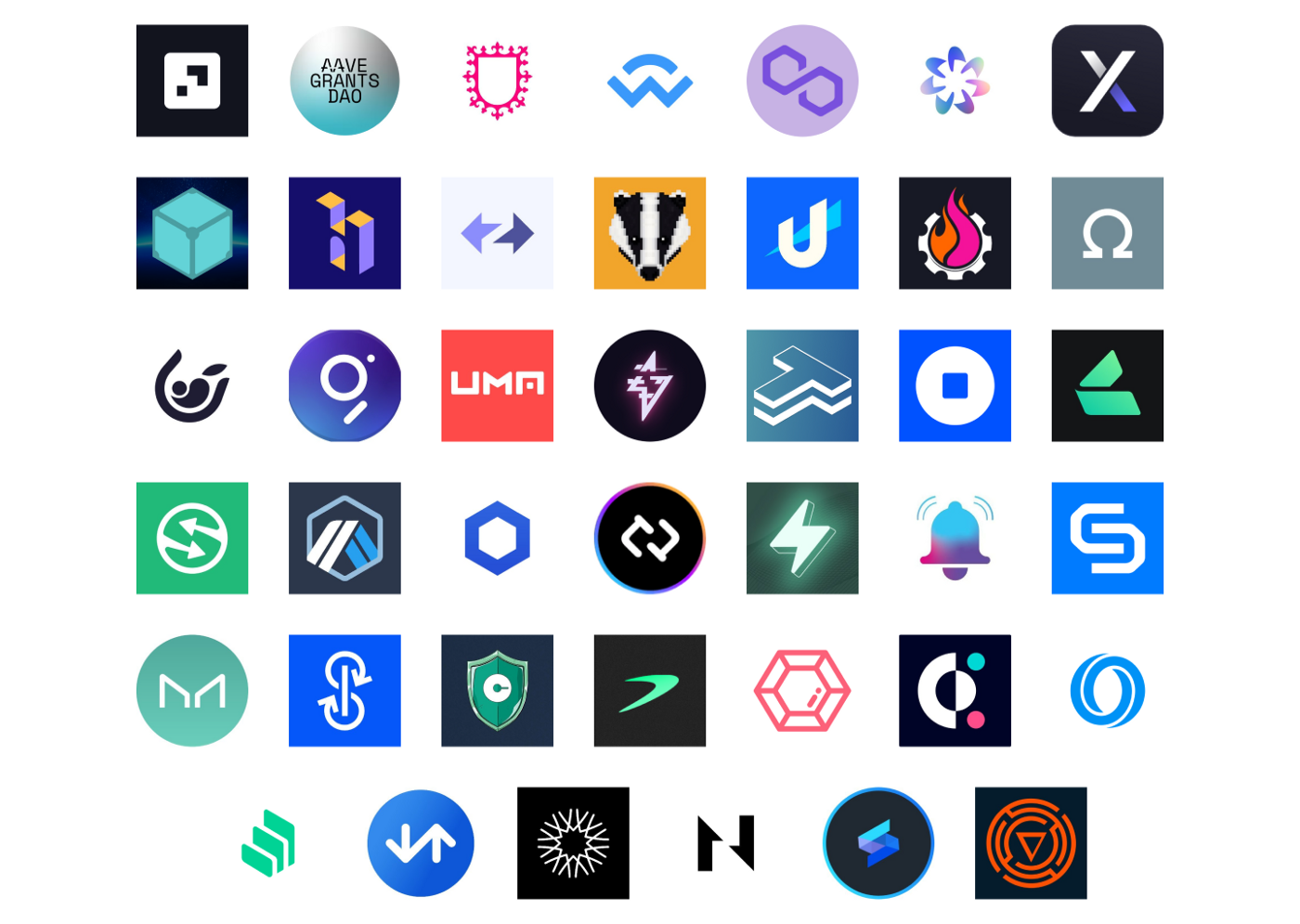 Some of our incredible HackMoney 2022 Partner Teams.
👀Up next… the 2022 ETHGlobal Hackathon Calendar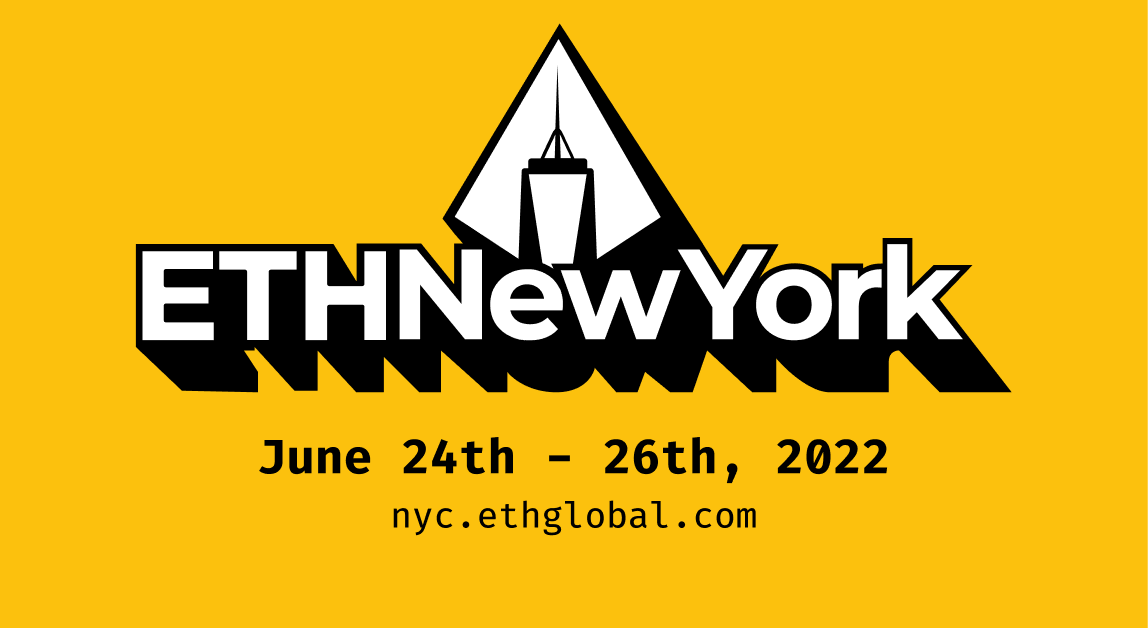 ETHNewYork is set to be our best event yet.
Join us June 24th — 26th for ETHNewYork— our next IRL hackathon! If you were able to attend ETH Amsterdam (or if you missed out) you won't want to skip this opportunity to link up with other builders in one of the most important cities in the world.
On top of that, we're proud to announce 7 more digital and IRL events spanning the rest of the year. Check out our website to learn more, and stay tuned for more information via our blog.
🚀 HackFS — July 8th — 29th (online)

🇲🇽 ETHMexico — August 19th — 21st (IRL)

💻 ETHOnline—September 2nd — 28th (online)

🇨🇴 ETHBogotá — October 7th — 9th (IRL)

🌉 ETHSanFrancisco— November 4th — 6th (IRL)

⚛️ Web3Weekend — November 18th — 20th (online)

🪷 ETHIndia— December 2nd — 4th (IRL)
As always, follow us on Twitter to stay in the know about future events and tag us in your project updates. We can't wait to see what you build next!
==
欢迎加入鸵鸟区块链Telegram社群
声明: 鸵鸟区块链所有发布内容均为原创或授权发布,如需转载,请务必注明文章作者以及来源:鸵鸟区块链(微信公众号:MyTuoniao),任何不尊重原创的行为鸵鸟区块链都将进行责任追究!鸵鸟区块链报道和发布内容,不构成任何投资建议。